Ace High Has Storage Container Solutions For Your Project
September 13th 2018
---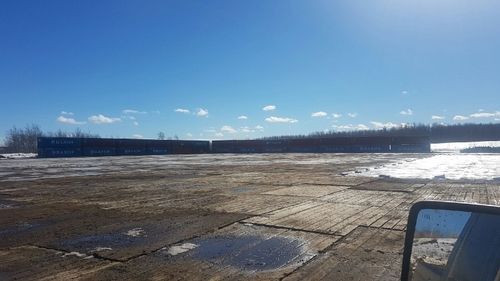 Ace High Storage is expanding our off-site C-Can storage solutions in and around Dawson Creek, BC. At this time, we have C-Cans off site with resource companies, private households for renovation projects, restoration companies responding to extreme conditions, including floods and fires. We also have 18 C-Cans at Northern Lights College while they are doing a major construction project. Gas stations/Convenience stores rent C-Cans from Ace High when they need extra room.
Ace High worked with Shell Canada to come up with a solution to high noise levels at a multi-pad drilling lease. As you can see in the picture, we created a sound barrier with 26 C-Cans (40 ft long each) stacked 2 high in an L formation.Local residents are happy with the effectiveness of the barrier and pleased that Shell responded to their concerns.
Retail businesses use C-Can storage containers for storing inventory, the health care industry uses them to shelter sensitive materials from the elements, mechanics and other automotive repair businesses use them to store tools, tires or other products in a secure, accessible environment. Ace High also provides C-Can conversion services that allow businesses to use them as offices, labs and even homes!
Our C-Cans are available in different sizes, including 8 x 8, 8 x 10, 8 x 20 and 8 x 40 and we just can't say enough about their amazing qualities! Our many choices of container size allows us to offer a range of prices to best suit your needs.
Meet Your Deadline with Offsite C-Can Storage
C-Can storage at your work site is ideal for construction projects, as the contractor and crew can store tools, equipment and materials right where it is needed rather than transporting everything to and from the work site every day! C-Can storage removes the challenges for space and raw material access by allowing for a high-quality storage solution that is secure and can be customized to suit the needs of your project.
Most contractors can relate to the problem of mysteriously vanishing tools or materials from the work site. This can be frustrating, costly and can slow a job down, as you try to locate or replace necessary items.C-Can storage at the work site removes that risk and, in doing so, can positively affect the morale of your crew and customers.
In addition to renting C-Can storage containers for off-site use, we at Ace High are eager to share ideas with you about how to get the most efficient use out of the storage space inside the units. We have learned a lot about C-Cans and the many ways they can be adapted for use in your camp, construction site or industrial project. Your gear, tools, construction materials, belongings will be safe from the weather, secure from theft, and rodent-proof. The units are nearly impenetrable unless you hold the key!
As you can see, the possible uses for off-site C-Can storage containers are virtually endless. Ace High Storage in Dawson Creek BC has been helping folks with storage solutions since 2007. We are locally owned and operated and we are dedicated to providing your business with the best possible storage solution for the job, at reasonable rates. You can reach us by phone at (250) 219-7075 or drop by our facility to discuss your project and storage needs.