On-Site Storage in Dawson Creek
At Ace High Storage, our main objective is to keep your belongings safe and easy to access in our on-site storage containers. If you're in Dawson Creek and need to store your personal belongings, business and oilfield equipment, and more, then look no further than our secure storage facility located in the centre of the Peace Region.
Download and Print our Self Storage Rental Agreement here, then bring it in to the office!
Benefits of Storing at Ace High Storage
Proximity to the airport, the Alaskan Highway, and Northern BC hunting are only a few benefits of Ace High Storage. If you're looking for a nearly impenetrable storage unit with tons of space, then you will be impressed with our c-can storage and the variety of options you have.
For Dawson Creek residents needing to store extra personal stuff, you'll find that you have lots of space. With these units being weather-proof and rodent-free, you can trust your belongings to us. For business owners and oilfield workers needing a large storage unit for equipment, c-cans provide an accessible and large space for storage.
If you like being able to pull your car up to your storage unit, Ace High Storage is for you.
Storage Security
Our team has made great efforts to make your belongings secure. Along with the security that is inherent to c-cans, you'll find our facility feels safe. Some of our security features include:
-A large, locked entry gate
-A second coded gate for certain areas of the facility
-Perimeter fences
-4K high resolution cameras
-High powered lights
-Security checks at certain times of the day
At Ace High Storage, you can trust that your belongings are secure.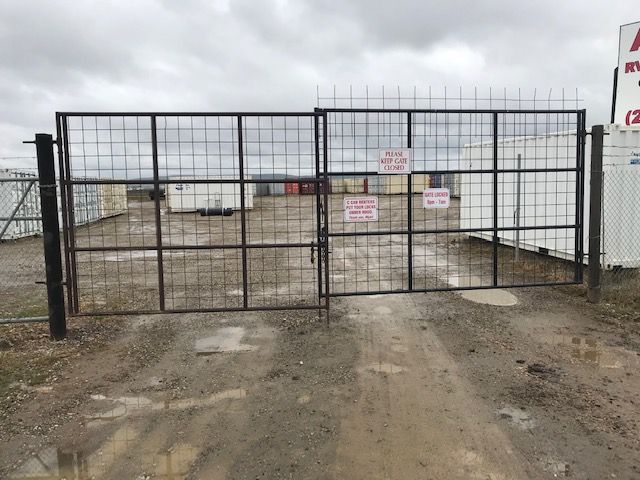 Location in Dawson Creek
Ace High Storage is conveniently located near the Dawson Creek Airpost, the the Pouce Highway and 8th St intersect. Our facility is a few metres down 217P Rd, behind the Co-op Cardlock and Gearjammer Electronics. With easy access to the highway, it's a great place to store any gear you might want to grab on your way out of town for a camping trip or a road trip. Visit our Find Us page for a map!
Other On-Site Services
Along with our c-cans for safe and secure storage, we also provide covered storage for RVs, boats, and other recreational vehicles.
Why Ace High?
You can choose Ace High because you know we will care for your storage unit. We care about making our facility secure and rodent-free so that you can be rest assured that your belongings are safe. We believe that when a business cares, everything else falls into place!
Check out some testimonials of current and past clients, or get in touch with using the phone number at the top of the page, or the contact for at the bottom! We look forward to hearing from you.
To get started, click here to download, print, and fill out our Rental Agreement, then bring it in to our office!